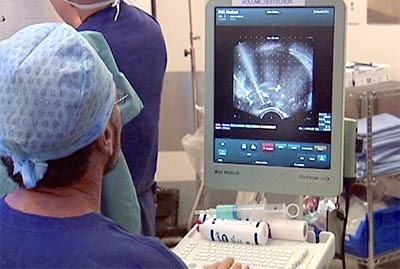 Prof Stricker's team has published the world's first report of cancer outcomes following focal NanoKnife therapy for focal prostate cancer. This appeared in October's 2015 edition of Prostate and Prostatic Diseases.
Prof Stricker's is one of the few centres in the world evaluating this technology as focal therapy for localised prostate cancer. This therapy is only suitable for those patients with localised prostate cancers limited to a certain section of the prostate who wish to minimise the side effects of surgery and radiotherapy. Last year in the journal Prostate and Prostate Diseases, Prof Stricker collaborated with Prof Emberton from the University College Hospital in England and published the safety of the procedure in their initial group of patients showing that there was no change in urinary control or erections. The procedure was always done as a day procedure.
The current publication has shown in the initial group of patients that there has been an 80% clearance of tumour overall but within the area of treatment there was 100% clearance. Since the initial publication of these first 25 patients, a further 70 patients have been treated with a wider margin of safety and Prof Stricker feels that this will improve that percentage well above 80% clearance. Prof Stricker noted the lack of side effects of this procedure, in particular the lack of erection issues and the lack of incontinence. Furthermore he has used the technique with patients who have failed previous radiotherapy and this is a new area where options for patients are very limited currently.
This world first publication is likely to be the first of many publications of outcomes using this technology. Data from around the world is now being collected by Prof de la Rosette in the Netherlands and this joint collaboration will publish the collaborative results within the next year. Of the 20% of patients who were not cleared of disease, most are being monitored but one patient has had whole-gland therapy with surgery and another has had a redo NanoKnife treatment which has been successful.
Prof Stricker also recently drew attention to an outstanding publication by Dr van den Bos from the Netherlands confirming the reliability of this technology to eradicate cancer in the treated zone. It appears therefore that the selection of patients is critical and if one selects a patient with localised prostate cancer within the prostate, it appears that this technology is highly reliable in eradicating it.
This major study suggests that this is a new and novel way of treating certain select patients with localised prostate cancer less invasively and with fewer side effects. Prof Stricker warned that this is still in its early phase but initial results and side effect profile are extremely promising for those selected patients.